JULY 15TH, 2020 - OCTOBER 3RD, 2021
In January-February 1938, during the famous Exposition internationale du surréalisme at the Galerie Beaux-Arts in Paris, Óscar Domínguez's phonograph Jamais (Never) caused as much of a sensation as Salvador Dalí's Taxi pluvieux (Rain Taxi) or the 1,200 coal sacks hung from the ceiling of the main hall. Although we were convinced that the Surrealist object Jamais had been lost, it has just been discovered that the Canarian painter had given it to his friend Pablo Picasso around 1945. It has been tracked down thanks to a 1947 photo-essay made by Nick de Morgoli in the Paris studio of the painter of Guernica.
The Surrealist Domínguez metamorphosed a Pathé horn phonograph into an erotic and hypnotic, enigmatic and disturbing object. It was as if he had sculpted and dismembered a female body in order to place two breasts on the turntable of the gramophone, to move the arm with the aid of a hand and, above all, to have the horn swallow the female body so that nothing remains visible but the two legs, or rather the two feet clad in high-heeled shoes.
The object Jamais makes its reappearance in July 2020 at the Museu Picasso in Barcelona as a gem. Its resurrection is also an opportunity to reencounter the atmosphere of the astonishingly innovative Exposition of 1938 and to evoke the performance by the 'Surrealist dancer' Hélène Vanel on the night of the opening.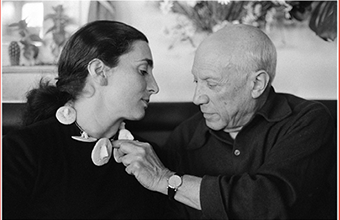 FROM 21TH MAY 2021 TO 26TH SEPTEMBER 2021
From 20th May 2021 to 26th September 2021, the Museu Picasso will present the exhibition «Picasso and artist's jewellery». Painting, sculpture, engraving, ceramics, decoration or even poetry … There are few artistic practices that Pablo Picasso didn't experiment with. In the spring of 2021, the Museu Picasso of Barcelona will focus on one of his lesser-known productions in an exhibition dedicated to artistic jewellery.
+100.000 ARTICKETS SOLD
GET YOURS!