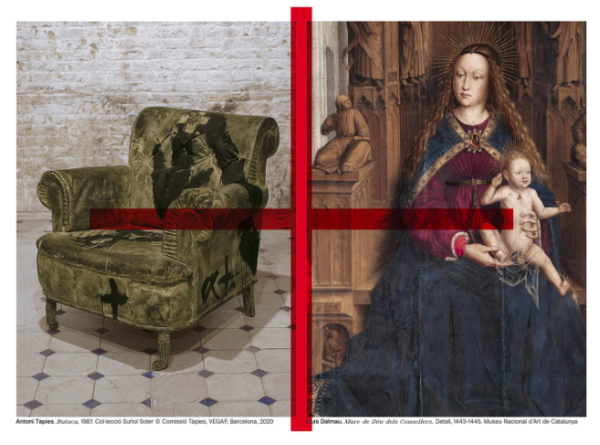 From 13 November 2020 to 7 November 2021
In order to present to the public and reflect on the art of the post-war and second avant-garde, we have established strategic alliances with various institutions, both public and private. In this sense, with Intrusive Dialogues we have started a collaboration programme with the Fundació Suñol, to enrich the interpretation of the works of this highly important collection in the context of the historical collections of the Museu Nacional. This agreement is of great importance for the construction of the collection and the contemporary storytelling.
19 March to 18 July 2021
The Endless War will reveal the different facets of the work of the photographer Antoni Campañà (Arbúcies, 1906 – Sant Cugat del Vallès, 1989), focusing on the photographs that he took during the Spanish Civil War, which his family found by chance in 2018. This series of images, of great artistic quality and historical importance, was hidden away in a box by the artist, where it remained for more than 70 years, from the end of the Civil War to 2018. This box, containing hundreds of previously unseen images, is now known as the "red box" and it is a very important new contribution to Catalonia's photographic heritage, with regard to the Civil War especially, resituating Campañà as one of the great names in 20th-century Catalan and Spanish photography.
From June 4 to October 3, 2021
The Colours of Fire: Hamada and Artigas will present a dialogue between the work of two of the great ceramicists of the 20th century: Josep Llorens Artigas (1892-1980) and Hamada Shoji (1894-1978), a National Living Treasure of Japan. Through the two ceramicists' relationship and mutual admiration, the show will allow us to learn more about the discovery and the impact of Japanese ceramics in Catalonia and, at the same time, it will bring to light the fruitful connections that Catalan artists like Joan Gardy Artigas, Joan Miró and Eudald Serra established with the mingei movement, recovering Japanese popular art.
+100.000 ARTICKETS SOLD
GET YOURS!